It's 2018. I mean, how did that even happen?! I'm so glad it did though because I don't know about you but I was so incredibly ready for putting 2017 quite firmly in the bin. I saw a cheering tweet the other day that pointed out that in a trilogy of books 2016 would have been the year when we set up the story and realised things were starting to go wrong, 2017 would be when it got absolutely terrible and bleak so we couldn't see our way out and 2018 would be the dramatic climax in which evil is vanquished and the world is saved - so going by that I've got high hopes and expectations for 2018!
On a personal note the last few years haven't been great for me - Donald Trump, Brexit and all other big worldly issues aside - and I'm pretty determined to change that. I've set myself some big goals for the upcoming year and I'm going to make sure I do my absolute best to smash them - and if I fail in the process then I'll learn from it and try again.
I've always been 'a shopper', I've always enjoyed clothes and fashion and always spent a good portion of my money on them - right back from when I'd save up 3 weeks pocket money to get the dress I wanted in Topshop. But last year as my mental health depreciated my spending increased, massively. I wasn't happy and I attempted to fix that over and over again by convincing myself that 'when I just own that lipstick' or 'that jumper' or 'that bag' that somehow the mood I was feeling would just magically lift and I would go skipping off into the sunset of happiness wearing that jumper and bag and lipstick.
Obviously what went wrong with my health last year was not going to be fixed by a new dress, nothing was going to make anything better until I started being honest with myself about what I was going through and luckily I got there just in time. However, I do know, 100% honestly, that I feel better about myself when I'm making an effort. At the height of last year's depression I was showering, begrudgingly, on the days I had to go to work and not at all when I didn't. My hair was going unwashed for weeks at a time. I pulled on the same jeans and jumpers for work that I hated and didn't make me feel good about myself over and over again, and when I got home I'd pick my pyjamas off the floor from where I'd left them that morning and put them back in immediately. I completely gave up with my appearance, whilst still buying extraordinary amounts of stuff because I was convinced if I found the right thing it would make me care enough to make an effort. But I made no effort and felt horrible and then felt so worthless that there was absolutely no point in me making an effort with myself.
Whilst depression doesn't just go away and I know I'll work on myself every day, probably for the rest of my life, one of the resolutions I have this year is definitely to make more of an effort. To practise the self care that is getting up and showering in the morning, not letting my hair go more than a week without having been washed and blow dried, to treat my body better and to put on some of the stupidly extensive make up collection I've been hoarding and not using for most of last year.
I've already
put up a video
on my
YouTube channel
about my year long beauty no-buy that I'm undertaking because of how overwhelmed I feel by my collection and how I need to focus on using it and getting to know it again, as I bought so mindlessly last year. I also have that same sense of being overwhelmed by my wardrobe and my although I'm not going on a clothing no-buy I definitely want to buy better this year.
The first shopping resolution I'm making is to buy things that fit me. Seriously, I have everything in my wardrobe from an 8-14 and maybe 1% of it fits me right now. I bought a lot last year for 'when I've lost 2 stone' or 'when I'm back to a size 10.' All well and good but now I have an overflowing wardrobe and no idea what actually fits me, what I can wear and whether that pair of trousers I can wear has a top to match that also fits. Of course I've mentioned above that as part of my overall new year's resolution to make more of an effort for myself that I want to treat my body better - and that does mean exercising and it does mean less biscuits at 3am because I can't sleep. And I can't pretend that I wouldn't love to drop a few dress sizes and be back to a size 10, but a few weeks of eating well and exercising isn't going to get me there - and I deserve to feel good about myself during that process rather than keeping all the 'I feel confident' feels for the end of it - which is realistically months of work away. I feel completely out of touch with my body - when I look in the mirror I don't recognise the person looking back at me, but hiding it in shitty clothes isn't the way to get back in touch with it, so I want to buy nice things in whatever size I need them to be so that they fit, and feel good about myself on a daily basis.
The second shopping resolution is that I want to buy less. I'm not going to make sweeping statements about becoming an ethical shopper, because that's a minefield, but I am more and more aware of the impact of fast fashion on our environment and on the people who work to create the clothes that often end up at landfill. To be honest I don't buy things thinking I'll wear them once, but with the sheer amount that I buy I find myself wearing the same things over and over again because the undertaking that digging through my wardrobe to find things is puts me right off looking for anything else. So though I intend to wear the things I buy they get swallowed up into the black hole that is my wardrobe and I don't wear them. So this year it's definitely about buying less, wearing everything and maybe even implementing a one-in-one-out system. I want to be more aware of everything that I own and stop being such an over-consumer.
And that's it - my two shopping resolutions. I know, it doesn't seem a lot - buy less and buy things that fit, but against the amount I bought last year and the % of that amount that I could actually choose to wear right now, they're pretty big changes to implement. I'm never going to be the girl who has a 20 item capsule wardrobe and I'm certainly never going to be a minimalist. But if I can aim to be the girl who enjoys and wears pretty much everything she owns, that's a step in the right direction.
January 2018 Wishlist
Black Dungarees
- I think these should be quite flattering as they don't have any pockets and the thin straps should mean that they don't overwhelm my narrow shoulders like normal dungarees do.
Grey & Black Wellington Boots
- I love Duo boots, they're great quality and they offer a range of calf fittings. These wellies would have been incredibly useful during the snow last week as I had a few meetings I wanted to look a bit smarter at, but the storms made that quite difficult. These would keep my dry whilst still being presentable and although the snow is gone I'm fairly sure we'll get a whole lot of rain to contend with throughout the year.
Tobacco Cardigan
&
Check Trousers
- I fell in love with this cardigan after seeing Joanie post it on their instagram and when I clicked through the cardigan had been styled with the trousers. Again I'm on the lookout for things that are smarter for doing client meetings and I feel like this combo would be acceptable in a business situation whilst still feeling 'like me' and not too corporate. I also love that Joanie actively show you most of their clothes on more than one model so you can get an idea of how the designs fit on different sizes and they're a brand I'd like to support based on that. I haven't bitten the bullet and placed an order yet, but this could well be the combo that does it.
Pearl Embellished Jeans
- I tried these on in New York and convinced myself not to buy them as I didn't think the embellishment being around my hips was all that flattering. But ultimately I still love them, I always find 7 For All Mankind denim to be great quality that's worth the price tag and they've now gone into sale, so once I get a few invoices through I'm definitely treating myself to these.
Cherry Red Huntsman Boots
&
Navy Suede Boots
- I recently realised that every pair of boots I own except from my navy suede boots have a heel on them. And what pair do I wear the most? The non heeled pair. In the past I've skimped on every day clothes and put my money into special occasion pieces - my high heel collection is beautiful and I love it and don't regret a single pair, but on a practical level of using and loving everything I own, if I'm running into town for dinner I might wear heels, but if I'm going in for a day of shopping I want flats. My flat navy blue boots have been my most worn shoes for the past two years and they're looking pretty worse for wear, they've been resoled and heeled multiple times and had their zips replaces, so it's definitely nearing time to retire them and get some new ones.
Navy Blue Dress
- Talking of wearing and loving items, I own this dress in burgundy and green and they're such easy go to outfits to throw on over a top and not have to think too much about. These dresses are great for work, client meetings or a cinema trip or brunch with the girls. They really are becoming a staple and I know if I pick up the third colour it will get used as much as the other two.
On November 1st Space NK's Christmas Gift With Purchase will launch, and as usual the minimum spend will be £250 to get it, so I thought I'd share some of the products that have made my shortlist to give you some inspiration - as if you were lacking any!
First up is the
Dr Dennis Gross SpectraLite
LED eye treatment. At £168 this is a pricey gadget but the results are supposed to be excellent - and visible within two weeks. I think I'm going to wait for a few more people to report back on this before taking the plunge but I'm always buying topical products and I think there's a lot to be said for treatments - so this has definitely peaked my interest, and the price point would give you a good chunk towards reaching the £250.
I've tried a few Sisley products now - they are pricey and I've been buying them when the GWP at Space NK has been on throughout this year - and so far they've been some of the best products I've tried. For my flight to New York next month I feel like I could definitely count upon the
Sisley Express Flower Gel Masque
to give my airplane skin the hydration it will be craving, plus it's clear so won't look too bizarre in flight. There's also the
Sisley Botanical Detox
which I'm super interested in; you use this product every night for a month as an intensive treatment and it boost the natural detoxification of skin cells and helps slow down the ageing process, as well as leaving the skin looking brighter, less tired and more hydrated. It's a lot of money but again it would go a long way towards achieving the £250 spend and so far I do have to say the handful of Sisley products I've had have been majorly impressive.
The Diptyque Christmas offerings this year are stunning, I actually haven't made it into a store to smell them in person yet but the packaging is so beautiful! There's the
Dragon
one which is blood orange, wood and cloves - so I imagine that will come through in a very traditional Christmassy scent; the
Phoenix
one is incense and myrrh with cinnamon which I think sounds beautiful and lastly the
Unicorn
one which is inspired by 'Frosted Forrest' and counts fir needles, wood and mint amongst it's notes - so I think this will be the cooler, more invigorating scent. Obviously candle offerings have to involve going into store but unless any of the scents are particularly offensive (which, since none of them are floral, I don't think will be an issue for me) I could happily have all three of these to display.
Speaking of scents the
Aromatherapy Associates De-Stress Massage Body Oil
sounds very up my street. It's got arnica, ginger and black pepper in it, which should help stiff joints and ease muscle aches and pains, and I just feel in constant pain these days - so I'm pretty much willing to give anything a go!
I am a huge fan of the REN Sea Kelp and Magnesium range already so this
travel set
would be ideal for going to New York as it contains a body scrub, wash and lotion and the magnesium is supposed to be good for sore muscles as well, so after days of pavement pounding in NY - shopping definitely counts as cardio when you're covering Manhattan Island from top to bottom! - this would be very welcome, and I always need to do a full body scrub after being on a plane otherwise I just don't feel I've got the plane dirt away!
One of the other things I'll be doing post-plane is a whole load of masques getting thrown at my skin every night - and Patchology is a brand I haven't tried but am definitely interested in. This
trio of masques
is £18.00 and includes a resurfacing masque, an illuminating masque and a hydrating masque - and the resurfacing masque promises to be a very gently resurfacing one with no redness left behind - so perfect to put on then head out into the city. They all work within 5 minutes, so again ideal for using in the morning when we want to be out the door to start the day on holiday rather than sitting about waiting on our sheet masques to work!
Moving off of skincare and on to skin - the
Cover FX Custom Enhancer Drops Set
was on my Sephora wish list for buying in New York, but I'm really happy to see more and more of the value sets coming over to the UK. The swatches of these look beautiful and although they're tiny a little goes a long way with these products, so I think the 4 of these will definitely last!
The other set I've featured is from Nars and it's the
Love Triangle
set - which is an amazing price point at £20. It have a mini of the Hot Sand highlighting blush in it and a mini of the Rita Audacious lipstick. I already have the Hot Sands liquid illuminator and I really like it, so I'm sure I'll like the powder version; and I've picked up Rita and swatched it so many times - but I could never justify another red lipstick... till it came in mini!
The audacious lipstick formula really isn't my favourite, but the colours are absolutely beautiful and I'm building up a pretty extensive collection - the next one on my list is definitely
Vera
, which is a beautiful berry shade. Other Nars lip products that I have my eye on are one of the new
Powermatte Lip Pigments
in the shade Rock With You, which I fell in love with after seeing Sam Chapman use it in
this video
; and a Velvet Matte Lip Pencil in the shade Mysterious Red. I have Cruella already and honestly just don't love it - I find it quite wet for something that's supposed to be matte, but I've heard that Mysterious Red is a bit more matte than Cruella, so I might give it a go!
The last product isn't available online but I'm hoping Glasgow will have it in store - and it's the
Becca Mineral Blush
in the shade Songbird which is described as a peachy-pink but has a bronze-brown tone running through it that I think will be super flattering on my pale skin throughout the cooler months.
With NY on the horizon I'm aimign to spend as close to the qualifying amount as possible and not go crazy - because otherwise I'd just add all of the above to my basket - but stay tuned to my
YouTube channel
to see what I do go for!
I officially go to New York 5 weeks today, which is both amazing but also terrifying - because I am still not prepared! Our plans for food and where we want to go are now pretty set, so it's now down to the 'What am I going to wear?!' and 'I need to get my hair done before we go!' type of prep.
I have a coat I can wear for going but I've mentioned
this Monsoon one
before and I still do love it. I've tried it on and it fits nicely but it's not to bulky for going in and out of shops and it would fit so well into my existing wardrobe too, as I'm a sucker for navy and red.
It's going to be cold while we're away (but Christmassy and beautiful, so I'm not complaining!) so high neck jumpers seem like a good idea and I love this
bargainous but beautiful blue one
. Scott has likened it to someone whose arms are in the process of transitioning into a werewolf whilst the rest of them stays human, but I think we can safely put that down to him having no concept of style! I love the colour and the sleeves have just enough 'winter is coming' about them to make me feel a bit Stark like! Next to it is this slightly less bargainous but hopefully amazing quality
colour block jumper
. I love the shade of green for Autumn/Winter and I think it'd look super chic whilst still being warm and cosy.
Speaking of jumpers, the green one on the bottom of the collage is actually from Prinstome who are a reliable company for
fast t-shirt printing
. Obviously going to New York at Christmas t-shirts maybe aren't the most practical item, but I feel like it would be so much fun to have matching themed hoodies for wearing on the plane - and this one looks super cosy. Two Scottish girls going to New York at Christmas time in their matching sweaters - I feel like its the start of a movie...
Lastly on the 'things to wear' front, if I was buying new boots for going it would be these gorgeous
Huntsman boots
from Ted and Muffy / Duo in the cherry red leather. I think they'd compliment my coat so well and they'd match the scarf I'm taking - which is the one I showed in
this video
back in January. I've had a few pairs of boots from this brand - back from when they were Duo through to Ted & Muffy and now they're back again and they are expensive, but they're very worth it - all of mine are still in great condition, despite being very well used!
Skincare wise we all know planes dehydrate your skin like crazy, and I feel like grabbing one of the
Charlotte Tilbury dry sheet masks
for using on our arrival night probably wouldn't hurt. I haven't tried this mask before but I've heard amazing things, and I have high hopes that it could sort of my post-plane skin!
Speaking of post plane skin, as well as dehydrating my skin the plane is also a breeding ground for germs and bacteria, which can led to break outs, especially on my oily skin. This
LED Light Therapy mask
from Neutrogena treats the skin with the blue light to kill the acne causing bacteria in the skin - which will be at a huge high after a plane journey, and the red light reduces inflammation in the skin. It's a bit of an investment, but I recently paid quite a lot for a facial that combined dermaplaning and the LED light treatment, so if I'm paying upfront to be able to treat myself at home I'm technically saving money - not that I'll be trying dermaplanning at home mind you!
Lastly, for keeping my oil in check I think I'll treat myself to these products from REN - the
clarimatte toner
and
gel moisturiser
, which both claim to balance oil on the skin and keep breakouts at bay. I've linked to these at M&S as, if I purchase them on November 9th, this would get me the minimum spend to buy the M&S beauty advent calendar, which, if they go with the same as last year, will be £35 if you spend £35. I've bought one advent calendar already this year so I'm not sure if I'll go for another one, but when I'm planning to buy these products anyway...
*Post in collaboration with Printsome.
All items picked, opinions and love of themed clothing entirely my own*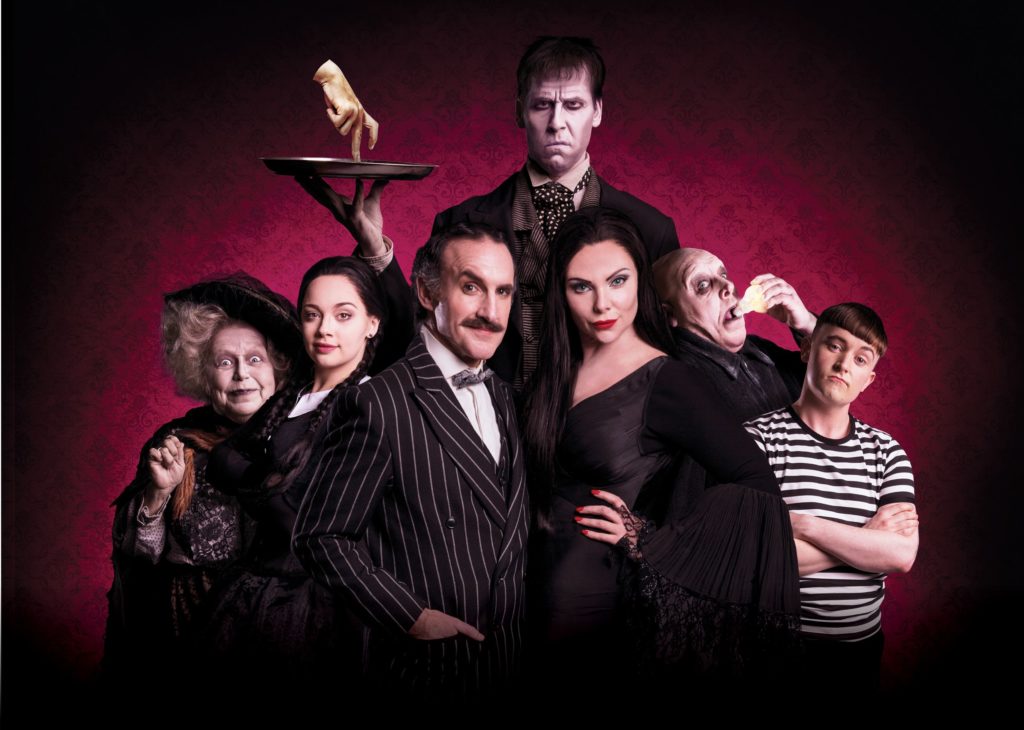 You know I'm a fan of giving it away up front - if you're looking for a good night out – book this show.
Before is started I was humming the iconic theme tune and Scott said 'If they don't use that I'm going to be so mad.' I of course replied with 'Don't be daft, of course they'll use it.' He countered that point with something else we'd seen on stage that hadn't used a few iconic bits from a film, and placed a seed of doubt in my head. I needn't have worried, The Addams Family the musical might be a musical, and a different form, to the strips and films, but they pay homage to their relatives and the stage show opens with those 4 notes repeating, and a bodiless hand clicking along from through a letterbox.
However, it totally is its own thing – the characters are different interpretations to those that Scott and I know and love from the Anjelica Huston and Christina Ricci films. It wasn't like seeing a second rate version of those films on stage – and really, with a cast as stellar as this one, how could it ever have been? Carrie Hope Fletcher always gives a phenomenal performance and this was no different, I was blown away again and again by her voice, but I also was awed by Cameron Blakely as Gomez. Gomez and Fester are the heart of this show, and what heart they are. Scott Paige, understudy for Les Dennis, was performing the role of Fester the night and he was phenomenal. His version of Uncle Fester was a bit like if the Uncle Fester we're familiar with got together with Varys from Game of Thrones and had a baby – it was fantastic. I'm going again tomorrow and Scott's performance is one of the main things I'm looking forward to. Well, that, and Lurch – but I don't want to say too much there (get it?!) and spoil it for you.
If you're an Addams Family fan you won't be disappointed by this hilarious, quirky show that so cleverly captures all of the elements of the family we know and love whilst showing them in a new light, with a new story. If you're unfamiliar with the Addams Family (I would have written 'If you're not an Addams Family fan, but, like, surely there's no one in the world who would fall into that camp?!) then this show is an amazing introduction to the family that's kooky, spooky and altogether ooky…
After receiving an Isle of Skye Sleep Sensations Votive candle as part of an event run by People Make Glasgow for the Style Mile Fest last year I've been a fan of these candles, recommending them to everyone and anyone. Looking for a clean burning candle? I've got you covered.
It occurred to me that, despite telling everyone I know IRL, I had never actually shared a proper blog post dedicated to these candles, so when I did a stock up last month I decided to photograph them and finally share the details.
The company was started in 2006 by James, who worked alone until 2009 - which is incredible! Imagine starting and running your own company by yourself for that long - what an inspiring story... You can
read more about the company here
; but the history aside let's talk about the products themselves.
The candles are made with high quality soya wax, which means they burn more cleanly and the wax used burns at a lower temperature, which means that the fragrances are not burnt off and you actually get a much better scent payoff from these candles than with others. That scent payoff is certainly there with both of the three wick candles I've shown in this post, they truly fill the room and strongly enough that they (
there's not really a delicate way to put this...
) cover the smell that somehow seems to linger even after Sansa's litter tray has been cleaned out.
The Juniper scent is very fresh but still relaxing and I've been burning that one downstairs, but the Sleep Sensations one has been firmly in my bedroom and it definitely helps to calm me down at night. There is lavender in the Sleep Sensations formula, and I'm not usually a huge fan of lavender scents, and it's mixed with tea tree and grapefruit, again neither of which I particularly like, but somehow mixed together these three just work. It make my room smell like a spa, which is what I'm all about and definitely creates an ambiance that makes me want to unwind and go to sleep.
Since Sansa is still a young cat I can't leave candles burning unattended (
yes, I know you're not meant to anyway, but let's just not pretend we don't walk out of rooms with candles burning in them!
) so I can't do what I previously would, which is put the candle on then go into the bathroom and shower/wash my face/faff about before coming back to my bedroom, by then usually filled with scent, and finish off my skincare and settle into bed; but even though I don't light this candle till I go into my room the three wick sends out such a good scent so quickly that I hardly notice the slight hold up in my routine.
As for the air freshener, which I went for in the Ginger & Nutmeg scent, it's been giving out plenty of scent to fill the car. The website says these last up to three weeks and it's now been in our car for around 4, and still seems to be going strong! For £2.50 I'm very impressed and will be purchasing another one! We don't eat in the car generally so there's not any smell to mask, so not sure how they'd hold up against a McDonalds drive through, but if the Juniper vs Sansa's Litter Tray throwdown is anything to go by, I'm fairly sure these would outdo any cheeseburgers.
Next on my list is the
Winter Warmer scent
, and if you'd like to have a sniff at these then you can check out the
store list here
- or if you don't have a physical store near you then the
stockists are here
.
Pinch punch first of the month! It's October and it's officially well into Autumn, and I couldn't be happier because I love Autumn/Winter dressing, the rich colours, the heavier fabrics - it all gets me so excited, but with a New York trip and a DLP trip early next year I can't really afford to go crazy on what I'm buying without a plan - so I've picked out some bits and pieces that either work together or with my existing wardrobe (or both!) to make sure that when I'm buying things for my favourite seasons I'm not wasting money!
DAYWEAR
I'm pretty guilty of buying up lots of dresses and going out things, but not a lot of day to day clothing - but this year I am definitely going to try and be better! The
first jumper, with the swans on it
, is from Oasis and was merchandised in store with the
tartan skirt
I've placed underneath it in this collage. it's very cutsey and I think it'll go nicely with my Ted & Muffy boots from last year, and ultimately I'm aiming to buy things that will slot in and work with my existing wardrobe.
Speaking of my existing wardrobe, the green Kate Spade handbag that
I showed in this haul
is one of my favourite bags - it's the perfect size to be roomy enough to hold things without being so big it ends up weighing a tonne, and green is my favourite colour so I'm on a mission to add a little more of it into my wardrobe. This
green skirt
is cord, which is a good material for going into the colder months as it is slightly warmer. The dress next to it would also be good for a layering piece in winter and it comes in both
green
and
burgundy
- which are basically my two favourite colours. They're logng enough to be able to wear to work with tights and a shirt underneath, but i'd wear them on the weekend too - so I think I'd get loads of wear from them both.
Given the amount of navy I wear the
striped navy and red jumper
would fit easily into my wardrobe to wear with jeans and boots through the colder months, an easy, no thought required combination. There's also the
grey jumper with the embellishment
on it, I'm not sure if the material could potential be an irritant to my eczema, but I think it's beautiful and well worth going in to store to check out. I didn't include
this green jumper
in the collage, because I'm not sure if it might be too high necked for my large chested figure, but it's that same gorgeous green shade that I love, so again I'll be heading into store to try it on!
The last skirt is
this gorgeous one
from Warehouse, which again I think would go with a lot of my existing wardrobe. It's styled in store with a red jumper that has a slight puff sleeve, which I don't think would hugely flatter me, so I'll be on the lookout for other red jumpers with normal sleeves, but I think in the meantime it would match my own navy jumper, and again the swan print one.
Lastly
these culottes from Zara
are gorgeous, the cropped length probably isn't ideal for winter but I think they'd be lovely for work with a plain top. I recently bought
these ones from River Island
but in a navy colour, rather than the cream, and I love them, so another pair would be a welcome addition to my wardrobe, and I love the colour of these Zara ones!
OUTERWEAR AND ACCESSORIES
This
navy and red military coat
from Monsoon would fit perfectly into my existing wardrobe, and looks like it'll be warm without being too cumbersome. This
green blazer
, which I admit I'd be a bit stretched to class as outerwear is beautiful and again is another green piece to bring in to my wardrobe. I think it'd be perfect to throw on over jeans and jumpers to jazz it all up a bit, or even over plain dresses. I could always go the whole hog and buy the
matching green trousers
,
Jewellery wise I initially saw this
pearl necklace
when we were in London, it's shown on the website as a choker, but when I saw it in the store it wasn't styled as a choker. What initially put me off was that you just tie it around your neck, it doesn't have a clasp and it's pretty overpriced for what is just a basic piece of costume jewellery , but to be honest I haven't stopped thinking about it. It's mainly the necklace I want, but the
matching earrings
are super pretty too, and pearls are always timeless.
Shoes wise, these
flat red ones
are perfect for every day wear, the straps make them a little bit more interesting than a basic shoe but they're still casual enough for wearing with jeans and the striped jumper in the first collage.
The
orange heels
are such a classic shape but with that more interesting colour that I think they could jazz up a lot of outfits - they would match with my navy items to bring a pop of colour and orange tones in well with the burgundy and bottle green elements I'm trying to up in my wardrobe. They're satin so completely inappropriate but when have I ever let that affect my decisions (rolls eyes!)
Lats but not least these
burgundy shoes
with their straps and chunky, block heel are ideal for every day - they'll be super comfortable for walking around in and I think I'll get a tonne of wear from them.
CHRISTMAS PARTY
It wouldn't be an Autumn/Winter fashion wishlist without some party outfits for festive season. Dolce & Gabbana are pretty much my favourite designers - my instagram favourites collection is basically just their images and Elie Saab's - and these
black and gold embellished shoes
are just such a classic example of their maximalist approach to dressing. They're kind of hideous, in a wonderful way, and I love them. I thin this year I'd wear them with this
classic black 50s skirt
, and this
black and gold velvet embroidered jacket
from Zara, teamed with the black and gold headband I showed in
this haul last winter
.
This
jacquard skirt
is gorgeous, and I think it would do really well for those Christmas drinks and dinners that aren't full parties but that I want to be a little bit more dressed up for - I could wear it with a plain jumper and flat shoes or even trainers to dress it down, or dress it up a little bit more, so it's something that would fit right into my wardrobe.
The
brocade boots
are similar - they could be dressed up or dressed down. Paired with a midi dress they'd be perfect for the after work festivities, not OTT but with that little bit of effort, but throw on with jeans and a blazer and it's just a standard smart casual outfit, regardless of the season.
Lastly these
bow heels
are one of the most perfectly festive items ever, and I'm hoping they might go with my red
Kate Spade bow backed dress I showed here
. Even if they're not quite the right shade of red for that dress I wear a lot of red anyway, and I know these would get used.
So that's it, the things I'm considering adding to my Autumn/Winter 2017 wardrobe. The only wardrobe update I haven't included is a new handbag - and that's mainly because I don't really need one, but if I was investing it would be in the Dolce & Gabbana Sicily bag in red - not sure if I'd go
medium
or
large
though...